Decent Moyo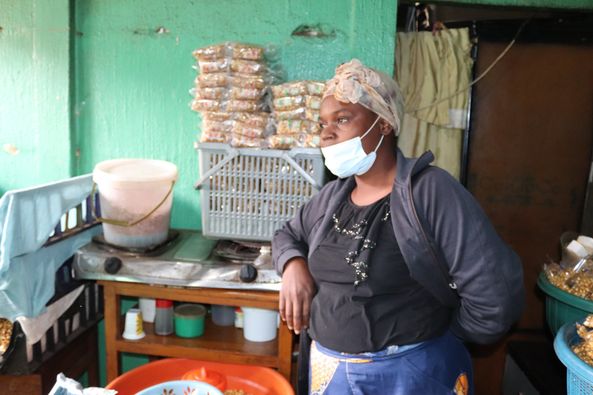 There is an old adage that says life changes (kare haagari ari kare). As for Mrs. Taulo, life changed for the better after she joined the Income Generating Activities (IGA) from AIDS Counselling Trust (ACT), which allowed her to start her own business, have a stable income flow, which empowered her to provide for her children, and move from renting a one-room apartment to renting a full house, as well as buy a car.
Mrs. Taulo, a 34-year-old mother of five, and her husband were struggling to provide for their family because none of them were employed and didn't have a steady source of income. As a result, having basic necessities and school fees for their children was a challenge, causing her to have sleepless nights most of the time.
"Before I started this program, I had a challenging life. Due to the fact that my husband and I are both unemployed, we didn't have any reliable income. We found it difficult to provide for our family. Even where to start was beyond us." stated Mrs. Taulo.
She then joined the Income Generating Activities (IGA) that are being carried out by the AIDS Counselling Trust (ACT), in partnership with Mavambo Orphan Care, where they were trained to manufacture various products and life skills. It was in these programs that she was taught about saving, business management, and business selection. During their training, they were exposed to various business skills such as roasting corn (Mhandire), road runner keeping, and horticulture.
She decided to pursue these three, majoring in roasted corn (Mhandire), with the business not only being successful but having also managed to completely change her family's life.
"I started to pursue this business of roasting corn in my one room, which I was renting at the time, but in a short period of time, I was making enough profit to allow me to move from my one room to renting the full house. This allowed my family to have decent accommodation, and I now have a bigger space to carry out my business from. I'm no longer struggling with school fees as I used to do. " Mrs. Taulo said.
The demand for their products continued to increase and there was a need to supply their roasted corn (Mhandire) in many parts of Harare and Chitungwiza. They managed to buy a car, which is now making it easier for them to meet their demand.
"As the demand for Mhandire continued to grow, we were now falling short of supplying it on time. But we managed to buy a car, and now it is easier to travel a long distance and supply on time. " She said
She also appreciated the support of her husband towards the growth of the business.
"My husband is very supportive and innovative. We used to use gas for roasting the corn, but that was becoming expensive, so my husband made this electric pot we are now using. He also made the sealer we are using to seal our roasted corn. We used to seal with candles, but that was not professional. The business is growing thanks to my husband for his innovations. "Mrs. Taulo said.
Mrs. Taulo is one of the beneficiaries of the Income Generating Activities (IGA), funded by USAID and implemented by AIDS Counselling Trust (ACT), a sub-partner of Mavambo Orphan Care.